Customer Reviews
10/06/2020
Katie
United States
Something that FINALLY works!
I never write reviews. Ever. I honestly had to come on to this website to find out if I can leave some sort of feedback. This product is absolutely amazing. We tried everything. Some household cleaners "worked" but it took more time to clean the tumblers than it did to engrave. Even then, they never really worked 100%, there was always a little shadow left behind. This works exactly how it looks in the video. Even works on different colors to get the last little bit of haze removed to leave the shine of the metal behind. I wanted to buy the trail size just to test it out, but it was sold out, and we were desperate, so I got the 32 oz refill size. I'm honestly so glad, I'm tempted to order another just to make sure I never run out. I can't say enough good things. Quality product. You guys should be proud of yourselves for delivering on exactly what you advertise. Cheers.
08/18/2020
Deron F.
United States
Great Stuff
This stuff really works. Better than any of the other cleaners out there. You get what you pay for.
05/26/2020
Bo C.
United States
Insanely Great!
If your practice is, like mine was, to run each tumbler twice in order to clean up left over powder coat residue - this product is a MUST HAVE for you! We would always run a second cycle at a faster speed and lower power setting to try to "clean up" the powder coating residue. The problem is that powder coating is applied with heat. So no matter how many times we would try to burn off the tinge of color residue, all we were doing was re-burning it onto the steel surface. Acetone, denatured alcohol, etc. would not really clean things up. Enter (on a whim) the Blū product! We engrave our tumblers ONCE! We literally spray on the cleaner - wipe with a sponge - and as if by some wizard's waving wand we are left with a gleaming steel finish in every engraved area after a rinse off with water. Not only has this product paid for itself within 2 or 3 tumblers, but the finished result makes our product stand out in appearance from all others. I am NOT over hyping this product.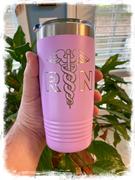 03/31/2020
Sargon T.
United States
02/05/2020
Merel J.
United States
Best stuff ever!!!
Wow... This is the best stuff ever. Spray, let sit for a few seconds and then rinse off. Could not ask for better results. This stuff rocks. Clean time reduced, and results are better than expected.