Optimization of Laser Settings for ENGRAVING Enduramark Engravable Plastics (EEP's)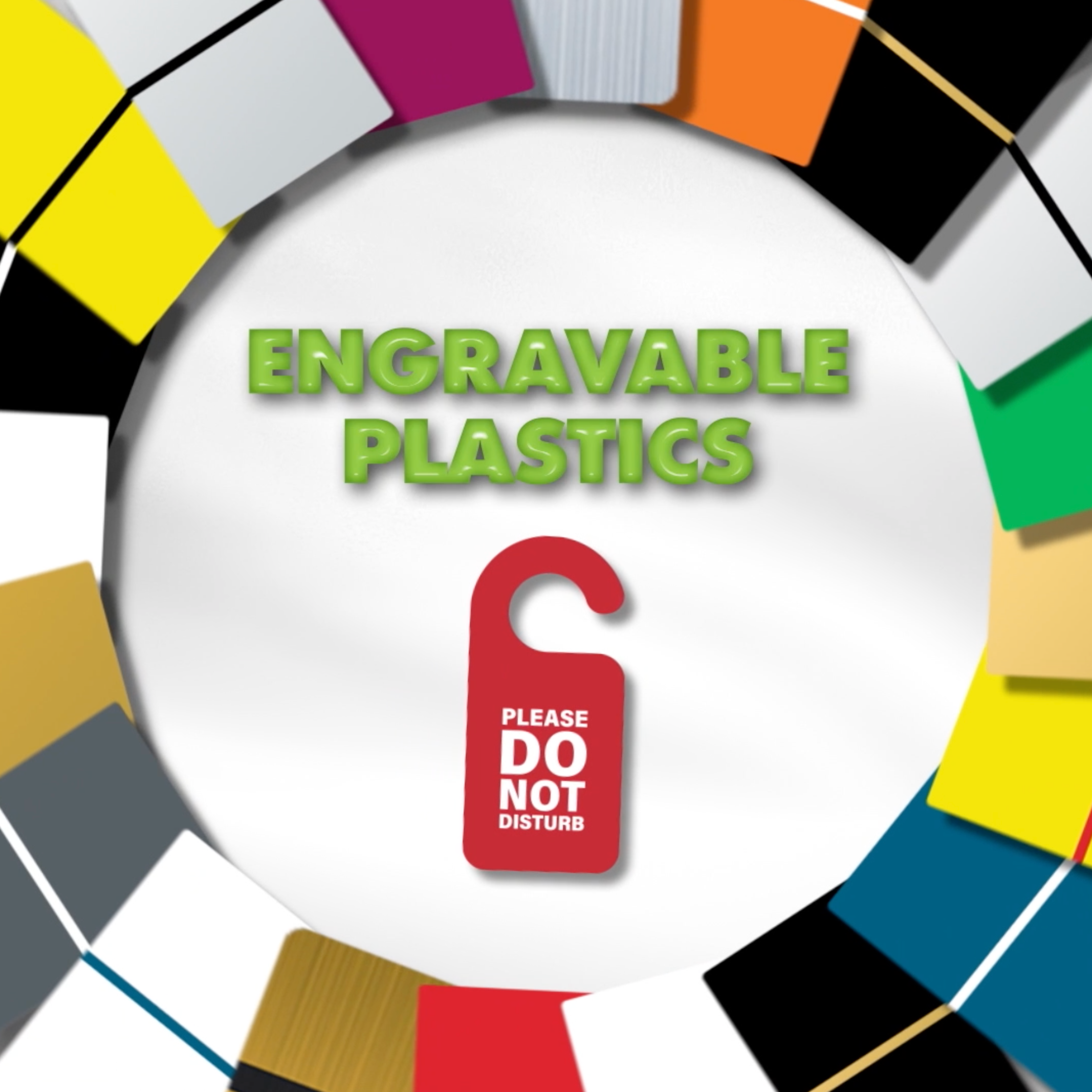 The Best Way to Optimize Your Laser Settings for Engraving Enduramark Engravable Plastics (EEPs)
There are many factors involved in preparing laser settings for each job, but we have cut through the morass to come up with the simplest way for you to optimize your settings no matter what the circumstances.
As a general rule of thumb, you are shooting for adjusting your power to deliver 15-20 watts to the sheet and at your highest available speed. If it does not fully remove the top layer, then increase your power incrementally until you get the desired result. If you are seeing a lot of residue or getting excessive depth then lower your power. 
PLEASE CHECK OUT THE YouTube VIDEO!!
VIDEO LINK: Optimizing Your Laser Settings
 (1)  A sheet of Enduramark Engravable Plastics (EEP's) with the protective film removed.
 (2)  A graphic file prepared for color mapping. Color mapping allows you to run different settings for each uniquely colored square and all in a single run. This is the ideal tool for optimizing settings. Each 1/2" square has a unique color code, which we will use later to set up the run.  
What You'll Do:
(1)  Remove the protective film on the sheet of engravable plastics and place the sheet in the laser. 
(2)  Set the default resolution to 600dpi, Power to 50% and speed to 100%.
(3)  Go to the advanced tab, enable the color-mapping function on your laser program and enter settings as indicated below using the RGB color codes you previously assigned. As an example, 25% Power/100% Speed corresponds to an RGB color code of 106 Red, 189 Green and 69 Blue.
(4)  The results of this test will only be valid at 600 dpi. A resolution setting of 300dpi will give different results and in general, we recommend marking at 600 dpi.
(5)  Set your home position and center the laser beam in the middle of your sheet of EEPs.  
(6) Turn on Air Assist.
(7)  Use Center-Center Engraving. Hit print in your computer program to send the job to the laser, and laser the sheet. 
(8)  Rinse off the sheet with water and magic eraser. If residue still remains use a cleaner such as Enduramark Green to remove any stains.
(9)   Evaluate the marks. In this example we are using a 50-watt laser. Our goal is to engrave at the fastest possible speed, so first we will evaluate the top row first to see if that yields an acceptable result. Both 25% and 20% power give good results at 100% speed, so either is acceptable, but it is always wise to give yourself a little bit of leeway, so we would recommend going with 25% power, 100% speed at 600dpi. 
You can see examples of insufficient power, particularly at high speeds, at 15%-10% power. At lower power settings, it may be possible to get a quality engraving but it would take a slower speed than we tested in this example and since time is money, we always shoot towards optimizing around the fastest possible speed.
PLEASE NOTE: THERE ARE MINOR DIFFERENCES IN SETTINGS FOR DIFFERENT COLORS. AS AN EXAMPLE, LIGHT COLORS, SUCH AS WHITE, REQUIRE A SLIGHTLY SLOWER SPEED THAN DARK COLORS.