Enduramark Silver on Stainless Steel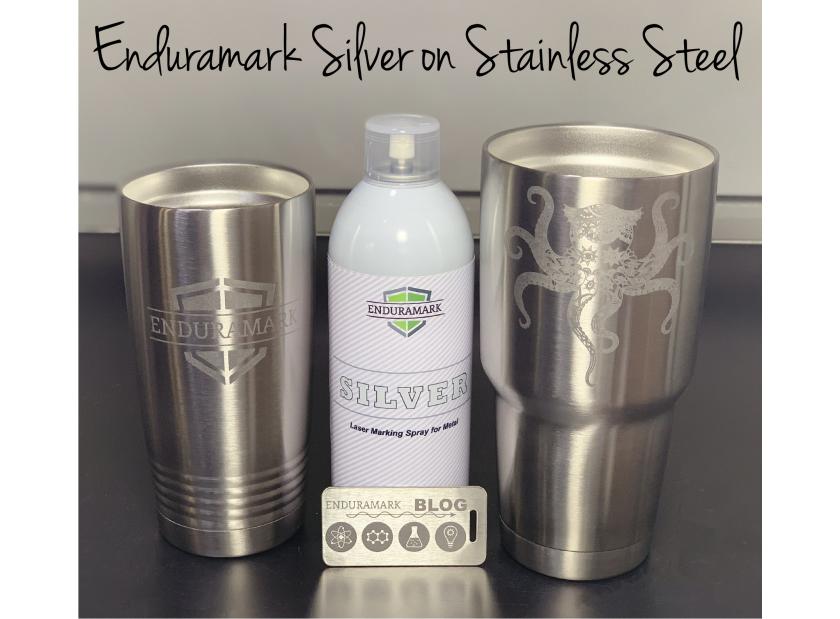 Marking Metals with Enduramark Silver
Enduramark Silver marking material is just as easy to use and just as durable as our Black marking material and provides customers with another attractive option. 
PLEASE CHECK OUT THE YouTube VIDEO!!
VIDEO LINK: Enduramark Silver on Stainless Steel
Applying the Silver Marking Spray
As the accompanying video shows, using Enduramark Silver is just as simple and involves the same process (including the same settings) as using Enduramark Black.  To use Enduramark Silver, you do the following:
(1) Spray the material onto your metal.
(For the purpose of this blog post, we are assuming you would be using the aerosol spray can.  For all application methods, please see our second blog,  "How to Apply Enduramark")
(2) Place the metal item into the laser, send the graphic to the laser, and imprint the item.  Use the same optimized laser settings as you would with Enduramark Black.
(For information about laser settings, please see our first blog, "Optimizing Your Laser Settings")
(3) Remove the metal item from the laser, and wash the item off with water and a sponge. 
Why Some Customers Prefer Enduramark Silver
Providing customers with options is always a good selling point because everybody has his or her own opinion about the way they want a product to look.  Some customers prefer an item marked with Enduramark Silver over one marked with Enduramark Black because they simply like the color better or because they want to tailor the color based on the item's intended use.  For example, a real estate company might want to distribute tumblers to clients with the company's name and logo imprinted on the tumbler, but the company may not want the items to look like blatant marketing or promotional tools.  In that case, the Enduramark Silver imprint still reminds the client of the company, but the graphic has a more-subtle look, potentially making the client more likely to use it and appreciate it as a gift. 
Another customer may feel that an Enduramark Silver imprint has a more high-end, classy look and may prefer it for items used in special events, such as weddings or company celebrations.  It all depends on who the customer is and the customer's intended use for the item.  At the end of the day, the customer wants options, and Enduramark Silver is a great way to give them one. This is a look that you shouldn't underestimate.